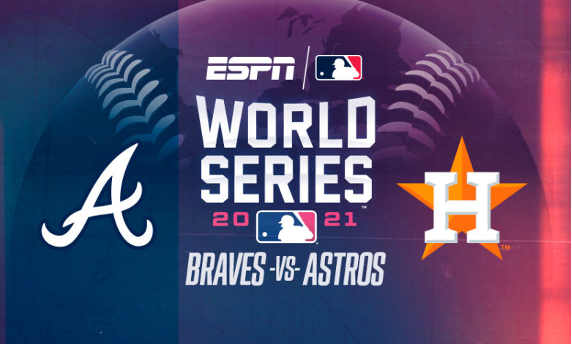 The Atlanta Braves defeated the Houston Astros. The Braves won their first World Series since their victory over the Cleveland Indians in 1995. The series ended in six games with the Braves winning four and the Astros won two. The Braves took home the series on November 2 in Houston.
"We just have a great group of guys and, many people counted us out after Acuña suffered a season ending injury." said Dansby Swanson.
The Braves got off to a hot start in game one with a 6-2 win. Winning game one was a huge turning point for the Braves in the road to winning the World Series. Eddie Rosario, Jorge Soler, and Ozzie Albies all went 2-5 at the plate. Soler had two RBI's in the game along with Adam Duvall. The Braves' pitching staff was shot after Charlie Morton fractured his fibula after a ball hit him in the shin. He pitched 16 pitches after he suffered the injury. The rest of the innings were split between A.J. Minter, Luke Jackson, Tyler Matzek, and Will Smith.
When asked about the teams' chemistry Soler had this to say, "It feels like one big family, we all know our role and no one complains. We all do our job when our number is called."
Game two was all Houston. The Astros were hot at the plate, collecting nine hits between seven players. Houston's pitching was lights out. José Urquidy led the Astros, pitching five innings striking out seven and giving up six hits. Christian Javier, Phil Maton, Ryan Pressly, and Kendall Graveman all came in for relief giving up no hits combined.
"I love the way we battled back after our loss in the first game. We have a lot of fight on this team, everyone doubted us after last year and I think we have the perfect team to win it all," said Javier.
Game three was a tight game. The Braves took it home winning by a score of 2-0. The Braves' pitching was lights-out, shutting the Astros out. Ian Anderson got the ball the start for the Braves. Anderson pitched five innings giving up zero hits and striking out four and walking three. Tyler Matzek, A.J. Minter, Luke Jackson, and Will Smith came into relief. The four combined only gave up two hits and striking out three. Adam Duvall drove in a run in the bottom of the third inning. Giving the Braves the 1-0 lead. Travis d'Arnaud put the Braves up 2-0 in the bottom of the eighth inning with a clutch solo homerun.
"This pitching staff is unreal; our guys are the best in the world. They step up in big situations and battle it out. I have the upmost confidence in this group," said head Braves manager Brian Snitker.
Game four was a barn burner. The Braves keep on winning as they take home game four in Atlanta. Eddie Rosario and Austin Riley led the Braves at the dish each going 2-4 and Austin Riley driving in one run. Dylan Lee got he start for the Braves. Lee only recorded one out before leaving the game. Kyle Wright was next in relief as he pitched four and two-thirds, giving up five hits and one earned run. Chris Martin, Tyler Matzek, Luke Jackson, and Will Smith all pitched one inning giving up two runs and striking out three combined. The Astros recorded seven hits and scored two runs. Zack Greinke got the start, pitching four innings, allowing four hits, zero earned runs, and striking out three.
"Austin has been great this year. He's done everything we've asked from him and he really stepped up as a leader, the team needs a guy like Freddy Freeman and Riley is just the fit," said Braves manager Brian Snitker.
Game five was all Houston. They dominated winning by a score of 9-5. The Astros brought the bats as they recorded 12 hits as a whole. Zack Greinke was the first pitcher since Babe Ruth to record a hit in the World Series. Carlos Correa was hot, going 3-5 at the plate and notching two RBIs for his club. Martin Maldonado had been struggling at the plate all year, but he stepped up big time in this game. Maldonado recorded three RBI's and one hit. Houston's relief pitching was lights-out as they gave up zero runs and struck-out six.
"Like Javier said after game two, our guys never give up. I told them coming into this game that we needed this win heading back to Houston for the last two games. I have no doubt we can win," said Houston manager Dusty Baker.
The Tribe win, the Tribe win! Atlanta completely dominated game six winning 7-0. Max Fried started on the bump for the Braves. Fried pitched six innings allowing zero earned runs and struck-out six. Tyler Matzek pitched two innings giving up zero runs and striking-out four. Will Smith closed the game out, pitching the last inning giving up no runs and giving Atlanta the win. The Braves were electric at the plate, collecting seven hits and seven runs. Freddie Freeman was 2-4 at the plate sending a ball into the stands to spark that Atlanta offense. Ozzie Albies was hot going 2-3 and scoring two runs himself.
"I am so happy for this group, they worked day in and day out. Countless hours of preparation and it all payed off. These guys deserve it more than anyone and I can't wait to go celebrate with my dudes," said Freddie Freeman.