Fall Senior Night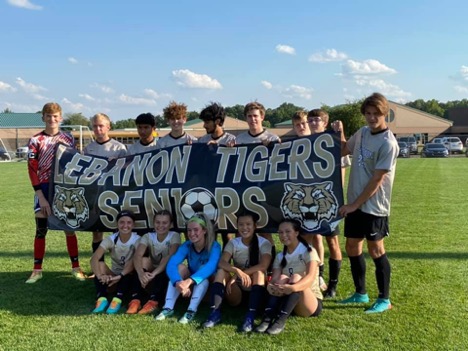 Senior year can be full of emotions. For our athletes, we love to take a night to recognize all they have done for the LHS athletic department throughout the years they have been participating. The traditional senior night doesn't require social distancing, mask wearing, and air hugs, but it looked a little different this year.
"The big difference was wearing masks and the fact that it was our first game. I enjoyed it but not as much as I think I would have if it would have been normal," said senior football player, JC Reese.
Even though there were many restrictions this year, senior night is still an impactful and emotional night for those athletes.
"I felt sad that I'm a senior and how it went by so fast. That night was about us and I was really looking forward to winning the game. It felt weird to be the one walking past my team rather than all the past seniors walking out past me," said senior volleyball player, Rylee Wilson.
Football, volleyball, boy's tennis, girls golf, and soccer all celebrated their seniors with announcements, treats, and displays. Although this night is memorable, it wasn't what all the seniors expected it to be like.
"It wasn't really what I expected. I had a fun night, but I thought there would be more people there to support us. Also, I wish it was our last home game rather than one in the middle," said senior soccer player, Alexis Trepcos.
Senior night for athletes at LHS is a big night, and the feelings that are normally felt may have been changed a little bit due to the limitations because of the virus.
"It was kind of disappointing it had to be earlier in the year, but I'm grateful to have gotten one. It felt great to win another match. I was happy with my performance and I'm very excited for the rest of the season," said senior tennis player, Matthew Keith.
This year a lot of sympathy was given to the senior athletes and many people were worried that they were being cheated out of an important experience. During hard times like this, all we can do is stay positive and appreciate what we are able to do.
"I didn't feel cheated. If anything, I felt like it was more special because of the effort from the parents and coaches to make sure we got our special night," said senior soccer player, Matthew Coddington.