Brand New Hex Bars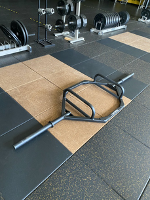 If you haven't visited the weight room lately, you might be surprised to find out that the Lebanon High School weight room has two new hex bars for a deadlift workout that are heavier and can hold more weight.
"I felt we needed a lifting mechanism that can hold more weight because we have big, strong athletes that can lift more than the older hex bars," said weight lifting coach Noah Rodgers.
The new hex bars look similar to the older ones, except they are wider, longer, and ten pounds heavier. They can also hold up at least 600 pounds, where the older ones' maximum was much less.
"They were really helpful and having them to put more weight on it helps. The only drawbacks would be the clips don't fit and the handles are really thick and hard to grip, but other than that, they are a great addition to the weight room," said sophomore Gavin Haines on using the new bars.
While some people might think it a waste to invest in weight room equipment, it is essential to keep our athletes strong and healthy and lifting to their full potential. The new hex bars have gotten a lot of positive feedback and are getting the athletes excited about lifting and pushing themselves
.
"I felt limited by the older hex bars because I couldn't put on as much weight as I wanted. With the new ones I have reached a new max and I feel very accomplished," said junior Hunter Crew.
This new addition is just the beginning into improving the status and quality of our weight room. Coach Rodgers hopes to keep improving the equipment to improve the strength of our athletes.