Drive-ins VS Movie Theaters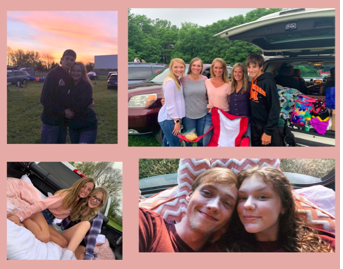 Due to covid and having to social distance the movie theaters have had to shut down. Along with that the GQT Cinema in Lebanon shut down due to bankruptcy and just opened up. Before then people had to improvise and watch movies somewhere else. The huge thing this summer was drive in movies. But how do people really feel about the drive-in? Are the movies better or the drive in?
One of the main issues that people don't like about the drive in is the weather. You never know what can happen, it could be too cold, it could rain, sleet, etc.
Senior, Belle Echeverria prefers the movie theaters. "They are more practical, you are inside and don't have to worry about the weather," said Echeverria.
Since the drive in is outside it's very open and you aren't right next to everyone like the movies. "You don't have to deal with loud people that you deal with at the movies, the drive in is much more secluded and you are unaffected by other people," said senior Grant Braner.
Due to covid new movies haven't be released so old movies and even some of the newer ones are being shown.
Braner prefers the drive in more. "I prefer to bring my own foods and the movies they are playing range from old movies to new movies, so I enjoy that," said Braner.
Although she likes the movies that are playing it just too far of a drive. "I would prefer to just stay home and watch Netflix with my own food," said Echeverria.
Along with movies they have also been doing drive-in concerts. They have had Casting Crowns, Metallica, and Blake Shelton. Many students and staff have been to these concerts and really prefer the drive-in more because of this.
Varsity cheer coach Melinda Spaulding enjoys the drive-in more than the movies. Spaulding went to a concert at the drive-in and saw Garth Brooks. Although it wasn't an in-person concert, it really felt like one. "Garth Brooks always puts on an energetic and fun concert. People were singing, swaying, and some danced just like a concert,' said Spaulding.
Junior, Addison Cupka enjoys the drive-in as well. Cupka saw Garth Brooks. Even though it wasn't a real concert, Cupka still recommends it. "It was super fun and my sisters and I were dancing in the bed of the truck," said Cupka.
If you want to try this drive-in experience as well, Mels drive-in, in Mechanicsburg is open Fridays, Saturdays, and Sundays. It is $25 a carload and around $125 a ticket for the concerts. They make sure to follow CDC guidelines and make sure cars are far apart, so you are sure to be safe at the drive in.