Boys Cross Country Team Wins Conference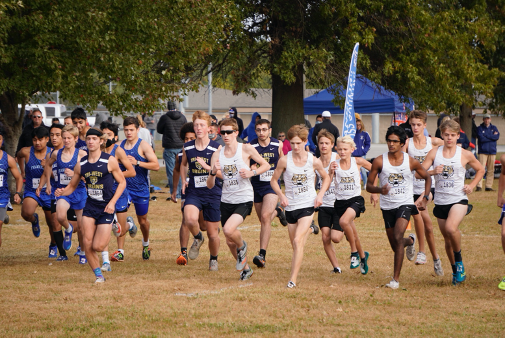 On Saturday October 3rd, the boy's cross-country team won conference for the first time in 40 years. Not only did they win, but five of them also qualified for first team all-conference. Their team has been working hard all year and it paid off at conference. The five boys who made first team all-conference include seniors Sriram Srinivasan and Zachary West, junior Ryan Keith, and sophomores Aidan Frost and JD Hawks.
"It felt really good to win conference because we have been working for that title all season," said Senior Zachary West. "It also felt really good to get first team all-conference and I mentally prepared for that by getting into my racing mindset."
The boy's cross-country team was so excited when they found out they had won, and the feeling was great for everyone.
"It felt awesome, like we had achieved something out of this world," said sophomore Aiden Frost. "Ever since last season we have wanted this title so badly and it felt great. I was also super excited to get first team all-conference because I came so close to getting it last year and I was really disappointed."
The boys celebrated their win by hanging out together and going out to eat at Flapjacks when they got back to town.
"Knowing that we are the first team to win conference in 40 years is such a good feeling." said Senior Sriram Srinivasan. "We have been preparing to win since back in June with summer miles and hard workouts throughout the season so this wasn't something that just happened overnight."
Having five boys get first team all-conference was also a big honor for the team since over half of the boys who ran were in the top 12 to qualify.
"I am beyond happy with the work that the team has put in this year," said Junior Ryan Keith. "We have had our best season in years and we are still going and I see a lot of potential in the younger guys on the team."
All of these boys have put in so much work to win the conference champion title, and they have all come such a long way. We are so proud of them and can't wait to see what they will accomplish next!